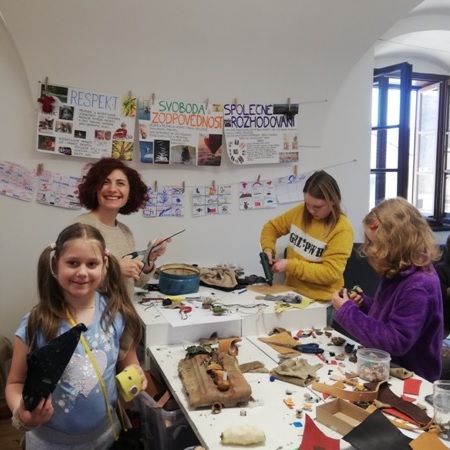 What I do at school?
I'm an EVS volunteer in CoLibri. I speak English and offer the kids and guides the opportunity to interact in a foreign language. I help/assist the guides, join school meetings and I've been learning the 'kitchen' of the school. Sometimes I organize some workshops for kids about sports and handcrafts. More over, I play some games with kids, I accompany them during the outdoor activities. We play some games to teach each other English and Czech, we do painting and drawing, make accessories and play music together.
Why CoLibri?
I wanted to experience alternative education, and 'freedom' attracted me. I've been observing and learning many things from the school.
Education and proffessional experiences
I studied Business Information Management first. I had long-term internships in my department. Than, I decided to start again and now I study Recreation in Sports Sciences Faculty for my 2nd bachelor in Turkey. Last year I completed my Erasmus at Coimbra University in Portugal. I'm a professional athlete, and coach on Capoeira sport. I've worked with children between 3,5-14 years as a sport coach for 7 years. I was also working with kids as a swimming coach before coming to Czech Republic. During my bachelor I was accepted joining the master lessons at Sport and Gender class for a semester. Independent from the school, I joined Woman's Human Rights Education Program for 3 months.
Personal interests
For 15 years I practice capoeira. Accordingly, I'm interested in music, instruments and language of capoeira. In general, I like learn languages; I speak English, Portuguese, Kurdish, and a bit of Persian. But I must admit it, Czech language challenges me! 🙂
I like practicing many sports, painting, and cooking. Also, the last and best ones; I love travelling, ethnography and folklor.
Pobyt zahraničních dobrovolnic ve Škole CoLibri je financován Evropským sborem solidarity, o kterém se můžete více dozvědět zde